Leadership

Our board of directors oversee chapter operations including 34 committees focused on fulfilling the objectives of Kappa Alpha Psi

83rd Grand Chapter

The 83nd Grand Chapter is August in Orlando, Florida!

Going to Conclave 2017?

Province Council

The 87th Northeastern Province Council is in Norristown, PA from March 15-March 19, 2017.

Norristown Alumni is hosting the weekend.
---
Welcome to PhillyKappas.org
Philadelphia Alumni Online is the official site of Philadelphia Alumni Chapter of Kappa Alpha Psi. Please use the menus above to learn about Kappa Alpha Psi, meet Philly Alumni and find us on Social Media. Visit our website next year for applications for the 2016-17 year.
Kappa Cookout
---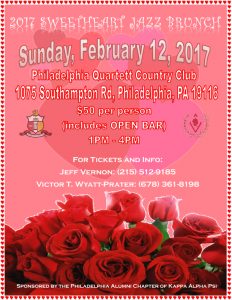 The Philadelphia Alumni Chapter of Kappa Alpha Psi Annual Sweetheart Jazz Brunch was held on Sunday, February 12, 2017. This fabulous event was thoroughly enjoyed by everyone in attendance. Photos coming soon. Be sure to get your tickets early next year!
Achievement Awards
---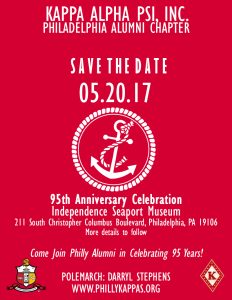 The Philadelphia Alumni Chapter of Kappa Alpha Psi Fraternity Inc. will be celebrating our 95th Anniversary on May 20th. This will be an event that you won't want to miss, so make the date a do not miss entry in your calendar! Tickets will be available soon. Click the flyer to download a copy. Check our website for details in the coming weeks.
The Smooth Show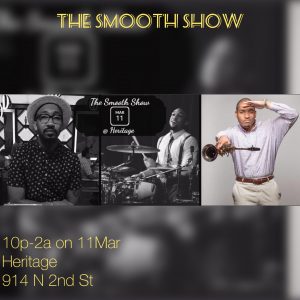 ---
On Saturday, March 11th, Our own  Brother Stephen Mitnaul (The Stephen Mitnaul Trio) will be performing at the Heritage Club 914 N. 2nd St. The set will feature the following talented musicians: Clayton Carothers - Drums David Criswell (Kappa Gamma) - Keyboard/Guitar Stephen Mitnaul (Zeta Epsilon) - Alto Saxophone Heritage is a modern, rustic restaurant with a seasonal New American menu - complimented by some of the best musicians in Philadelphia.  There is no cover, but you're welcome to tip the servers and musicians for good service.  Come by for smooth sounds and a vibrant atmosphere!
Hiliary H. Holloway, Esquire Scholarship Award Application
The Philadelphia Alumni Chapter of Kappa Alpha Psi Fraternity is seeking to enhance higher educational opportunities for qualified graduates of the Philadelphia public school system.
It is our desire that through financial assistance, some young man, who might not otherwise be afforded the opportunity, might gain advanced educational training. Further, it is our hope that with this education, the individual will be able and obliged to contribute to the betterment of the region, the country, and indeed the world. Applications for the 2017-18 year will be available later this year.
Newsletters
The latest Philadelphia Alumni Newsletters will be listed here.