A prime example of a high achiever is our very own late revered Brother, Hiliary H. Holloway, Esquire.
HILIARY H. HOLLOWAY, ESQUIRE SCHOLARSHIP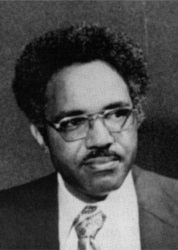 Achievement is the most important goal of Kappa Alpha Psi® Fraternity, Inc. A prime example of a high achiever is our very own late revered Brother, Hiliary H. Holloway, Esquire. Having served in numerous capacities within and outside of the Fraternity, Brother Holloway's legacy personifies ACHIEVEMENT.
About Hiliary H. Holloway
Hiliary H. Holloway was a fully financial and active member of Kappa Alpha Psi Fraternity, Inc. since his initiation into the Alpha Kappa Chapter in 1947. He has held offices on the local, provincial and national levels. Holloway worked for the Federal Reserve Bank of Philadelphia in 1968 as a Legal Counsel and he was later appointed as General Counsel, which made him in charge of the legal department. In 1972 Holloway became the first African American to be promoted to Vice President in the Federal Reserve Bank of Philadelphia. Prior to employment at the bank, Holloway practiced law, served as National Executive Secretary of Kappa Alpha Psi Fraternity, and was Business Manager at St. Augustine College.
In 1953 Holloway became the first national executive director of Kappa Alpha Psi fraternity and in 1976 was elected Grand Polemarch. Holloway worked as an attorney with the law firm of Hazell and Bowser and partner in the law firm of Marshall, Dennehey, Warner, Coleman & Goggin.
Holloway earned a Bachelor's degree in Business Administration from North Carolina Central University in Durham, North Carolina with honors. He completed a Master's Degree at Temple University and the Juris Doctor Degree at Temple University School of Law.
Among his activities, Holloway was a trustee of the Philadelphia Museum of Art; Lankenau Hospital and Lankenau Foundation; Philadelphia Miniversity; Mt. Olivet Tabernacle Baptist Church; Zion Nonprofit Charitable Trust (Chair) and past board chair of North Carolina Central University. He was a board member of the United Negro College Fund; Mt. Olivet Village Corporation (Chair); Metropolitan YMCA; National Medical Fellows; Governor's Economic Development Partnership and chair of the City Planning Commission.
Holloway was named one of Ebony Magazine's 100 Most Influential Black Americans. He died February 9, 2000, and was survived by his wife Gwendolyn Larkin and their two children, Hiliary Jr. and Janis Holloway.
About The Scholarship Award
The Philadelphia Alumni Chapter of Kappa Alpha Psi® Fraternity, Inc. is proud to announce the 2020 – 2021 scholarship application is open to current School District of Philadelphia, Philadelphia Charter School high school and Achievement Academy students planning to enroll at bachelor degree offering institutions in the fall of 2021. The application deadline is May 10, 2021.
This scholarship is for African American men who are seniors in high school in the Philadelphia, PA area.
The application is closed. You can find more information at Scholarship.PhillyKappas.org.
Thanks for your interest
How To Apply
Applicants must complete the 2020 – 2021 Kappa Alpha Psi® Scholarship application in either the online application version or downloadable paper (pdf) version. Additionally there is a mandatory " Checklist and Signature " page that must be completed and submitted with the application. The application package also includes –
official high school transcript,
copies of SAT and/or ACT scores (either fixed to the transcript or secured for the College Board or ACT),
A copy of the confirmation page of the applicant's Student Aid Report (SAR) reflecting the EFC (Expected Family Contribution) and
publishable photo of the applicant
If an applicant decides to complete the online version, all accompanying documents must be returned to scholarship@phillykappas.org . If the applicant decides to complete the paper version of the application, all accompanying documents are to be return in one package via postal mail to Nathaniel Abney Jr, 441 Mininger Rd, Souderton, Pa 18964.
Selected candidates will be notified by the scholarship committee to receive a scholarship.
If there are any questions and/or concerns email scholarship@phillykappas.org
Click Here to Apply Now
---
The Philadelphia Alumni Chapter of Kappa Alpha Psi® Fraternity is seeking to enhance higher educational opportunities for qualified graduates. It is our desire that through financial assistance, some young man, who might not otherwise be afforded the opportunity, might gain advanced educational training. Further, it is our hope that with this education, the individual will be able and obliged to contribute to the betterment of the region, the country, and indeed the world.
AWARD ELIGIBILITY REQUIREMENTS
Applicant must have been accepted by a four year accredited college or university.
Applicant must have at least a "C" average (2.0 on a 4.0 scale), as well as a demonstrated need for financial assistance.
SCHOLARSHIP AWARD DECLARATION
Selected candidate must submit proof of college matriculation in order to receive his first award payment.
The student is expected to maintain at least a 2.5 or better grade point average on a 4.0 scale, and maintain standards of good conduct to be eligible for scholarship renewal.
Applicants should be students at a Philadelphia Public or Charter School and/or a current Achievement Academy student.
METHOD of SELECTING AWARDEES
The applications will be forwarded to the chairman of the Scholarship Committee, to be received not later than the published deadline date.
Potential candidates will be contacted by the Philadelphia Alumni Chapter's Scholarship Committee as to a possible interview. (Achievement Academy candidates will be notified of the date, time & location by mail.)
Scholarship winners and their high schools will be notified by letter.
BASIS OF AWARD
The recipients will be chosen based upon their scholastic achievement, extracurricular activities (in and outside of school), character, personality, leadership qualities, and overall potential for the attainment of a baccalaureate degree. Financial need will be considered and given priority.